19.12.15 – Sexy Santa Party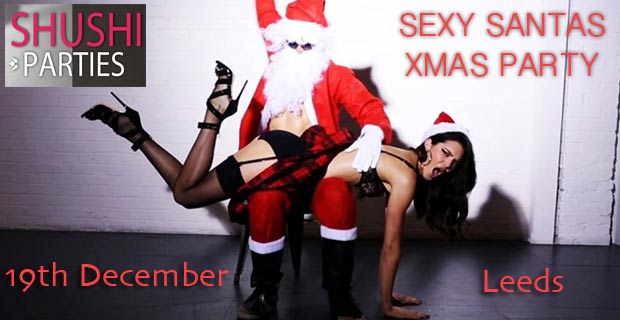 Our Xmas party was held on
Saturday 19th December in Leeds.
The venue was a great apartment just on the edge of Leeds city centre. It kicked off around 8:30pm with lots of bubbly and white wine being sipped as the guests chatted. Pretty soon one of the female guests ended up sat blindfolded on a chair as 3 girls started to tease her. The girls' partners soon joined in the action and the corner sofa became a tangle of bodies as everyone joined the party. At one point ice cubes were even being licked off various parts of the guests bodies!
The party was a mixture of new guests and some that had attended Shushi Parties before with people travelling from as far and wide as Preston, Birmingham and Wiltshire. Everyone seem to really click and there was a lot of laughter, including a game of Xmas pass-the-parcel from Santa's sack, with some unusual sexy prizes that the guests could use that night – including edible underwear that was quickly put on and "eaten off".
Most of the girls ended up wearing santa hats and not a lot else, one guest even donned an elf costume including bells and a hat. There was so much laughter we almost had to get Elf and Safety involved (sorry!).
The party carried on until the early hours of the morning before some everyone headed off full of Christmas spirit and wicked seasonal thoughts.
you wish to come to our next party  and haven't already been approved for Shushi Parties, please apply as described HERE.